Remote Teaching and Learning
Remote Teaching and Learning is "Distance Education"
Distance education (or remote teaching and learning) is defined in various ways, so New River has created clear definitions we use to define how course information is delivered to learners. The course schedule includes a column for Instructional Methods (abbreviated as IM) that indicates how the course information will be delivered (see Instructional Methods explained for more information).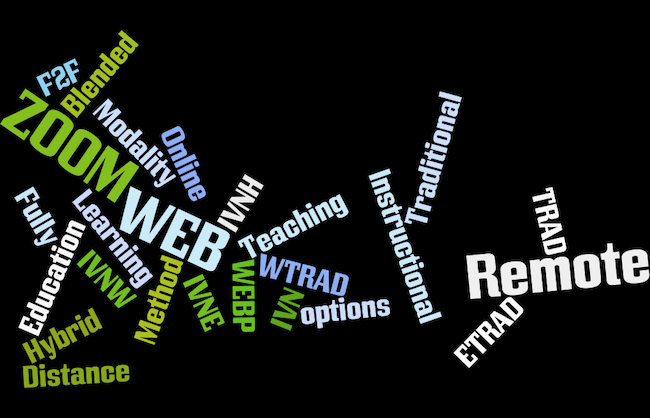 New River extends course offerings beyond the traditional face-to-face (F2F) classroom to accommodate students who desire flexible schedules and to overcome geographic constraints that might prevent a student from enrolling in our traditional F2F courses. These "distance learning" courses are offered in a variety of delivery formats (Instructional Methods) which are explained on this page. When students register for any distance education course they should receive an introductory letter for students explaining how to get started. We also have an introductory letter for instructors.
New River provides an online orientation experience for new students (on-site orientation is sometimes available and scheduled through the Admissions office). The information provided during orientation is crucial to a new student's academic success, so completing the online orientation ensures that all students are able to obtain this very important information.
Instructional Methods for Distance Education
New River developed entirely new definitions for distance learning that went into effect for the Spring 2014 academic term. These definitions are helpful to students, instructors, and administrators because they provide a clear explanation of how courses are actually delivered using various instructional methods and simple percentages for the extent that distance learning is being used.
Prior to January 2014, our course schedules would simply have ANGEL or IVN listed as the Instructional Method, but students registering for these courses might expect 100% of the course to be online while the instructor had entirely different expectations that could include some in-class meetings. And as administrators often submit reports regarding our distance learning offerings, the reports were inaccurate as a result of these multiple interpretations of our definitions for Instructional Method. These new definitions clarify all current forms of Instructional Method. Please see our description of instructional methods for a complete explanation of them. The Instructional Method is provided on the current course schedule in the column named IM.
New River offers distance learning courses as either web-based or video-based instruction. Web-based courses are available through Brightspace D2L and video-based courses are available through our Interactive Video Network or IVN, which now uses Zoom to manage conferences. Even traditional face-to-face (TRAD) courses now use some online tools as all instructors are required to publish a syllabus in the course management system (Brightspace) and grades are done using Self-Service Banner. Instructors track attendance using DropGuard and Zoom has recently been implemented as our solution for both videoconferncing and instant messaging.
Program Oversight
In 2013-2014, the Advisory Committee for Distance Education provided oversight for distance education initiatives at New River. This oversight was then modified so that it was provided by the Academic Deans and the Vice President for Academic Affairs until 2019, when the group was reformed with new members and a new direction. In 2019, distance education was realigned with Information Technology Services and a new Advisory Committee for Distance Education was formed.
Training and Information for IVN (Zoom) and Brightspace D2L
We have online training information for IVN instructors (ITS 107: Teaching with Videoconferencing) and the information is also helpful for students. We also have online information for instructors teaching with Blackboard Learn (ITS 100: Teaching with Brightspace D2L), as well as a number of other training topics for instructors.
Consolidated List of Links from this Page