Advisory Committee for Distance Education (ACDE)
Membership
The Advisory Committee for Distance Edcuation (ACDE) is comprised of key administrators, faculty, and staff (see below) who work in collaboration to address the ongoing needs of the College in the area of distance education. Their recommendations, advice, and leadership serve to guide how remote learning is delivered and supported. They also work to ensure that remote teaching efforts are managed, supported, and delivered in a manner to support the needs of the College.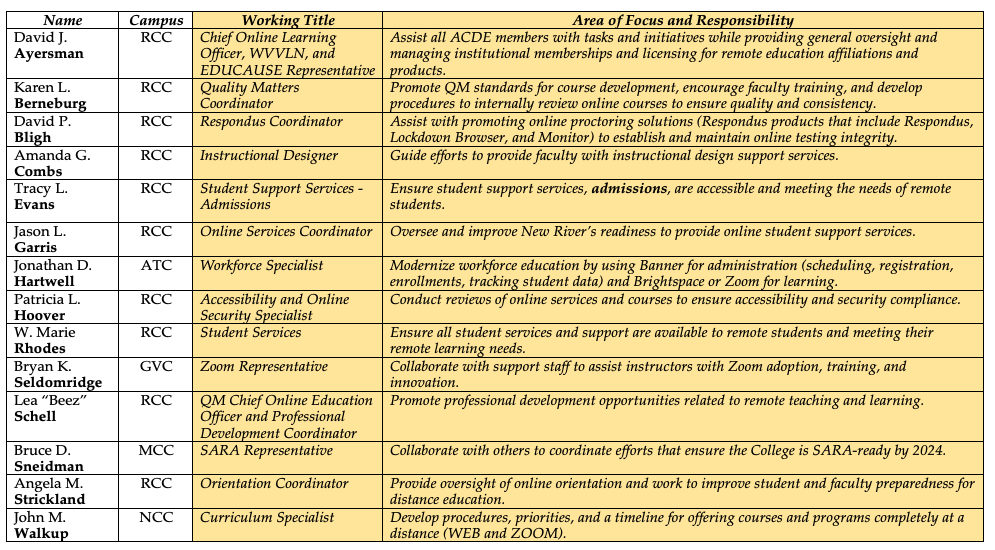 Charge
Participate in researching best practices and current delivery methods in use throughout higher education for distance education.
Collaboratively develop a 5-year plan for distance education that will incorporate best practices while identifying courses and programs that should be available by distance throughout our 9-county region (and beyond).
Serve as mentors and liaisons to faculty needing assistance with distance learning technologies.
Serve as ambassadors for distance education by sharing information about distance education resources, services, and initiatives to educate others.
Goals
Facilitate, encourage, and assist with ensuring the quality of distance education throughout the College's curriculum.
Improve readiness and preparation for new instructors and students to succeed when using distance education.
Identify appropriate metrics to measure distance education efforts and periodically review these data to adjust services to meet changing demands.
Proactively assist with the oversight and management of various distance learning services and serve as distance education representatives both within and beyond the College.
Meeting Minutes and Notes
Meeting Minutes and Notes (PDF)
Communities and Memberships