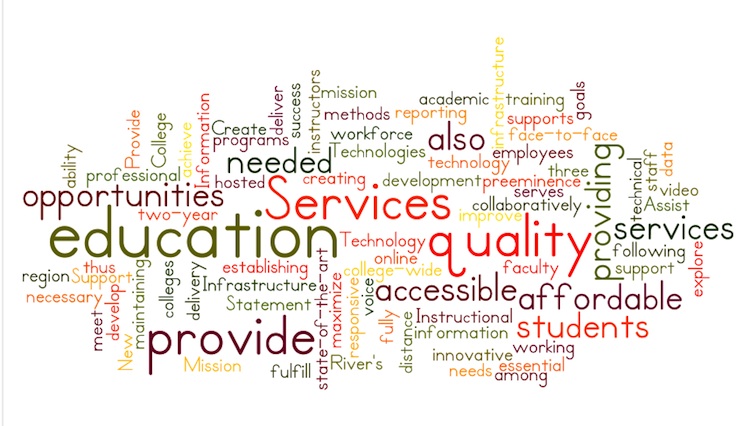 Mission Statement
The Information Technology Services staff supports the mission of the College which is to provide accessible, affordable, quality education and workforce programs to meet the needs of the region it serves. We achieve this through our efforts in the following areas:
Infrastructure Technologies: Assist instructors in providing accessible, affordable, quality education by creating and maintaining a state-of-the-art technology infrastructure for data, voice, and video while also providing the hosted services needed to fully explore innovative distance and face-to-face education delivery methods.
Information Technologies: Provide responsive and informative technical support to all employees and students while collaboratively providing the hosted services and college-wide reporting services that are needed.
Mission, Goals, Objectives, Assessment Methods, and Data Sources
Our mission, goals, objectives, assessment methods, and data sources are aligned in an easy-to-understand table. We also have annual goals that depict prior year's initiatives and priorities as well as that our current year's goals.
Goals for FY2018-2019 (we skipped a year)

Goals for FY2023-2024 (coming soon)
NOTE: The graphic at the top of this page was created using the mission statement and two goals stated above using Wordle.